High Definition Auto Tweeter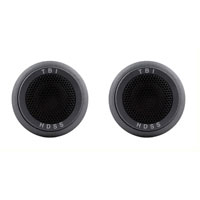 In modern vehicles perhaps the most difficult task in interior compartment sound reproduction is the reconstruction of the mid and high frequencies. The tweeter while being the smallest driver is the biggest contributor to sound quality. The ear is sensitive to the small wavelengths and any distortion produced. The awkward positioning required when installing the auto tweeter is also a part of the problem. Why is it so difficult to achieve the clarity desired while in your car? The performance of a high quality speaker is typically evaluated on the tweeter axis at some distance but this is not an option in vehicles. The vehicle requires something special in a high frequency driver the exciting new TWEP51.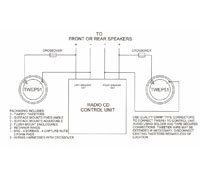 The patented TWEP51 represents a breakthrough in diaphragm control eliminating the fidelity-robbing breakup associated with its motion. Any object at rest wants to remain at rest and the diaphragm of a tweeter is no exception. The tweeter has to move quicker than any other driver in the system due to the fast rise and fall times of the higher frequencies. In fact most music signals have fast rise times requiring speed in the higher frequency driver. When the signal tries to move the coil it moves first at the edges and then other portions of the diaphragm follow randomly. This creates a flexing of the diaphragm causing mechanical breakup. Dynamic standing waves are also created behind the diaphragm when random motional pressures build up. A constant internal pressure is required to damp the entire diaphragm surface to eliminate dynamic standing waves and mechanical breakup.
The Embedded Transmission Line (ETL™) creates vortical activity within its structure, which maintains constant pressure behind the tweeters diaphragm as frequencies change. Even pressure on the diaphragm reduces distortion and enhances dispersion to allow total flexibility in placement while easing integration of the entire frequency range. Patented acoustic technology enables this advancement in vehicle sound quality. Pat No 7207413 B2
The TWEP51 dome tweeter is designed to integrate the sound and provide more flexibility in accomplishing the goal of high frequency extension. While it is typical to mount component style driver components in close proximity to each other it is now possible to maintain seamless integration with your main speakers even if you are forced to alter the location. In some cases it may be desirable to change the value of the crossover capacitor or even use a more sophisticated network. It is highly unlikely that you will require any special wiring to eliminate the stressful fatigue caused by other types of tweeters. Please be sure to use the proper polarity to insure that the center image is maintained. This action means connecting the positive and negative of both channels the same. Identifying the wiring color for your vehicle is important but in most the positive wire is the lighter color in the wires going to the speaker. It is an important objective to maintain the same polarity with your midrange driver when placing the TWEP51 adjacent to it. This relationship will be a subjective decision when locating the TWEP51 at a distance with final wiring dependant on the resultant sound quality. See figure below for normal wiring. It is typically better to set up the front speakers as the main soundstage but the diagram below also applies to rear speakers if desired. Rear speakers are best used for bass response when the control unit allows it. Installation Photos and Tips
Forum
Review
TWEP51 ADAPTER INFORMATION
adapter dimensions
flush mount
fixed angle mount
adjustable angle mount
Specifications:
| | |
| --- | --- |
| DIAPHRAGM TYPE | One Inch Silk Dome |
| MAGNET TYPE | Neodynium |
| REAR CHAMBER | ETL™ Based (Pat. no. 7207413 B2) |
| FREQUENCY RESPONSE | 2KHZ – 23KHZ (+/- 3db) (see graphs) |
| IMPEDANCE | 4 OHMS NOMINAL (see graph) |
| POWER HANDLING | 40 W RMS (100W IHF) |
| DISPERSION | 160º |
| INCLUDED CROSSOVER | 6.8 UF FILM CAPACITOR (3.5KHZ @4 ohms - 6db/oct) |
| PRICE (per pair) | $200.00 (USD) per pair |