Diamond IR™
The Majestic Diamond IR™, represents the state of the art in sound reproduction in a micro sized audio monitor. High end usually means large size and high price but no more as full range sound is delivered. This quality is apparent and in harmony with the rooms acoustics as never before possible. Advanced technology allows the MD-1R to perform with exhilarating performance beyond normal expectations.

The patented Embedded Transmission Line (ETL™) has opened the door for this small loudspeaker to produce a realistic large soundstage which can be observed by all in the room. There is no sweet spot limitation when used in home theater or music systems so many can enjoy the symphony just like in the concert hall. ETL™ technology prevents the sound from being altered and allows the rooms reflections to participate in the presentation. The ambience of the typical listening room should be that of the recorded performance and this goal is accomplished with the Majestic Diamond 1R.

The ETL™ normalizes the internal pressure behind the cone to prevent cone breakup from standing waves and mechanical diaphragm breakup. This action covers the entire frequency range and allows the MD-1R to produce extended highs and lows. Typically a speaker port is tuned to a specific frequency delivering a narrow band peak in low frequency output. The port used in the MD-1R is a unique Transmission Line Terminus (port) which is able to supply bass over a broad range extending room performance into the 30Hz range. The high frequencies are extended and dispersion improved using a unique aluminum phase plug mounted in the pole piece of the driver in conjunction with a second miniature ETL™ module. The 3" high quality coated paper driver in a micro dimensioned enclosure is now doing the impossible producing the full range of audio frequencies in high definition. This audio monitor is capable of producing sound at normal room filling volumes even exceeding 100 db with 30W of amplification.

An inherent benefit is provided for the amplifier powering the MD-1R in the reduction of the uncorrelated back EMF. Normally the back EMF of the loudspeaker is dominated by the pressure of the random standing waves internal of the enclosure. With these distortion components reduced the driver produces a damped back EMF indicative of the program material only. The amplifier performs with ideal loading allowing its design topology to be appreciated.



Features
HDSS® Certified
High End Sound Quality
Single 3" Phase Compensated Magnetically Shielded Coated Paper Driver
ETL Enclosure System With Dual Element Internal Tuning
L-Dimensioned Port With Position Optimized Throat
Useful Bass Response To Below 30 Hz
Wide Dispersion Listening With No Lobing
Low Distortion – Close Listening Without Fatigue
Zobel Network Maintains Flat Impedance
Wide Dynamic Range Even At Very Low or High Levels
New! ADPC1 Flush Ceiling Adapter (Available Now)
Specifications:
| | |
| --- | --- |
| POWER HANDLING | 50 W dynamic (25 W RMS) |
| RESPONSE | 35Hz – 24Khz +/- 6db (room boundary reinforcement) |
| IMPEDANCE | 8 Ω nominal (8 Ω min) |
| DISTORTION | less than 1%@1W (above 100Hz ) |
| SENSITIVITY | 86db (1w@2m) |
| DISPERSION | 170 degree horizontal/vertical dispersion |
| MOUNTING | Embedded ¼ - 20 tread insert (stand – wall – tripod) |
| FINISH | MD1R Piano Black Lacquer,Black Matte,White Gloss |
| DIMENSIONS | 5.5"H x 4.625"W x 5.125"D (13.97H x 11.74W x 13.0175D) cm |
| WEIGHT | 1 lb ea |
| PRICE | MD1R/ $600.00 |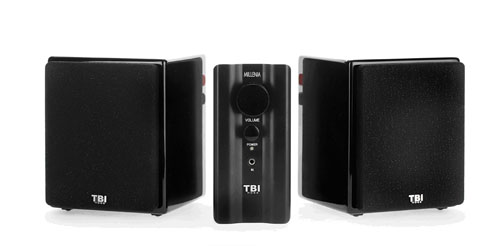 MAJESTIC DIAMOND IR WITH MILLENIA MG3 INTEGRATED AMPLIFIER
MMD-1R MICRO-COMPONENT $995.00.(System is available with MD-1 call 1-877-828-7829 to order)